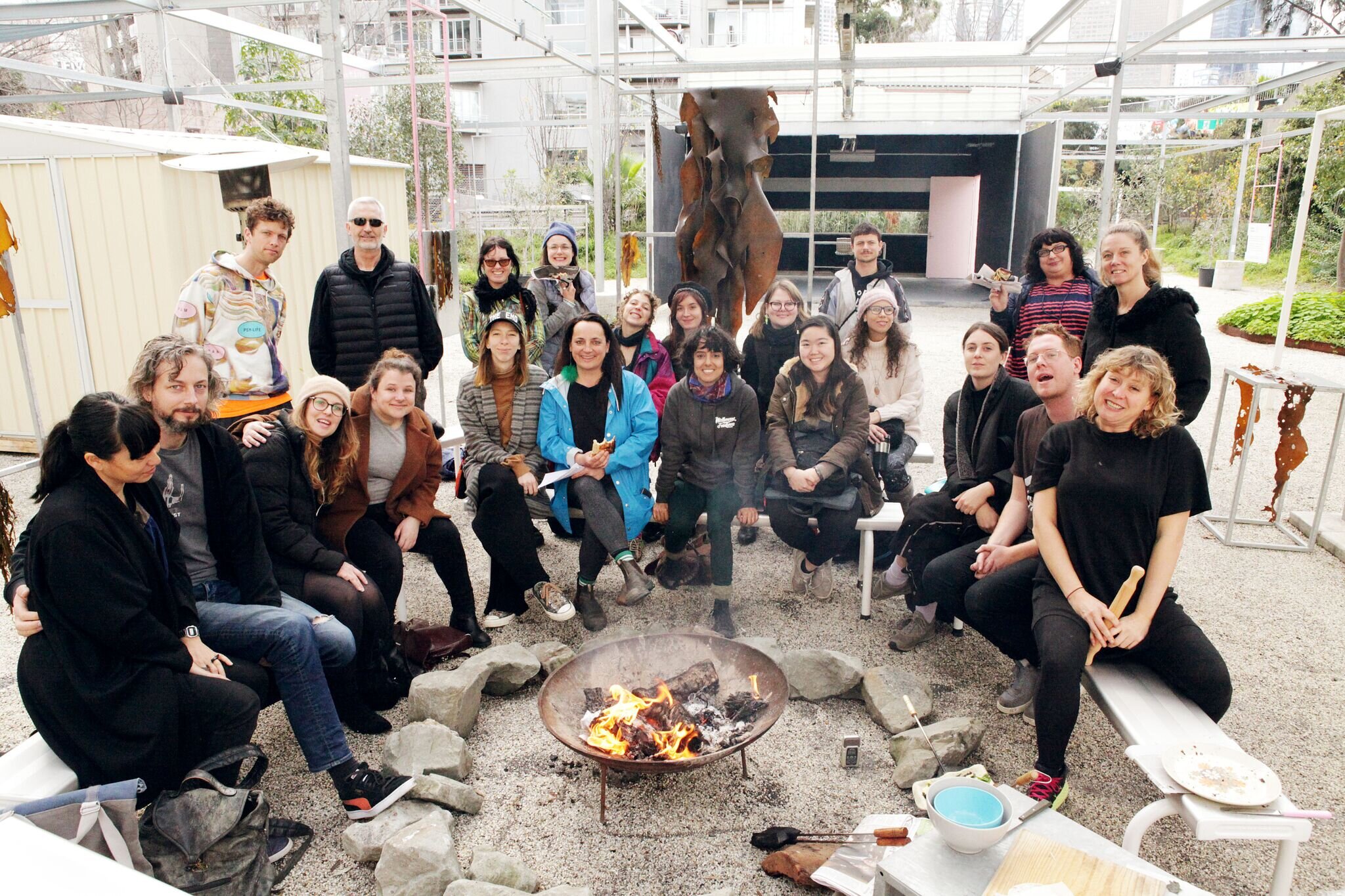 Seaweed Appreciation Society international (SASi)
The society will operate as a mobile learning lab connecting artists with experts such as marine biologists and kelp farmers with the aim of extending awareness and exploring options to assist in regenerating marine habitats. It will involve excursions, designing a logo, kelp snacking, hive mind planning, more excursions, underwater photography, seaweed drinks, seaweed fashions, finding a clubhouse, planning a cooperative floating kelp farm that can also host artists as well as straight up schooling.
The inaugural meeting was held in May 2019 at Florence Peel Hall in Fitzroy and was cohosted by Lichen Kelp and Danni Zuvela as part of Liquid Architecture's Why Listen to Animals program.
Since then we have had groupings at Siteworks, Brunswick, presented at the Jaffle Symposium, Testing Grounds and held a seaweed forage in Point Cook Coastal Park. Lichen Kelp also presented a talk on the Kelp Highway for Matters Journal at Abootsford Convent and co-presented a 7 part seaweed feast at Lake Tyers Tavern, East Gippsland with Mat Bate, as part of a Forum of Sensory Motion residency with FLOAT.
Forum of Sensory Motion will continue to host travelling iterations of the program.
In 2020 Lichen Kelp will travel with SASi to hold a Forum of Sensory Motion residency with 10 artists in Chile, where the Atacama desert meets the ocean.
We are also continuing to hold talks, presentations and workshops out of community spaces around Melbourne and Australia and forages and snorkelling trips around the country.

So if you would like to come or you would like to host a meet up, in Melbourne or beyond, or have any ideas, links or people SASi should meet who may like to assist please let us know. Also please be aware that you don't have to be an artist or an algae expert to join, being Marine bio-curious is qualification enough!

1843 cyanotype algae image by legendary botanist, algae enthusiast and possibly first female photographer Anna Atkins.
more SASi information here; Seaweed Appreciation Society international (SASi)
and regular updates on Instagram @seaweed_appreciation_society
and facebook SASI/Seaweed Appreciation Society
Kelp Farming.
Mat Bate from Matters Journal presented a session at Siteworks on kelp farming. His article on the topic (sea below;)) was one of the earliest inspirations for the Seaweed Appreciation Society! So it was an honour to have him speak. Mat is currently working on a book about seaweed for kids with illustrations by Liz Rowland.
I Get By with a little Kelp from My Friends
SASi Jaffle Symposium at Testing Grounds, Melbourne.
For this event we foraged Giant Kelp from Apollo Bay to create draped seaweed walls for an outdoor room with a central fireplace where we cooked ocean bread jaffles with nori, cheese and native warrigal greens.
Image by Marina Lamari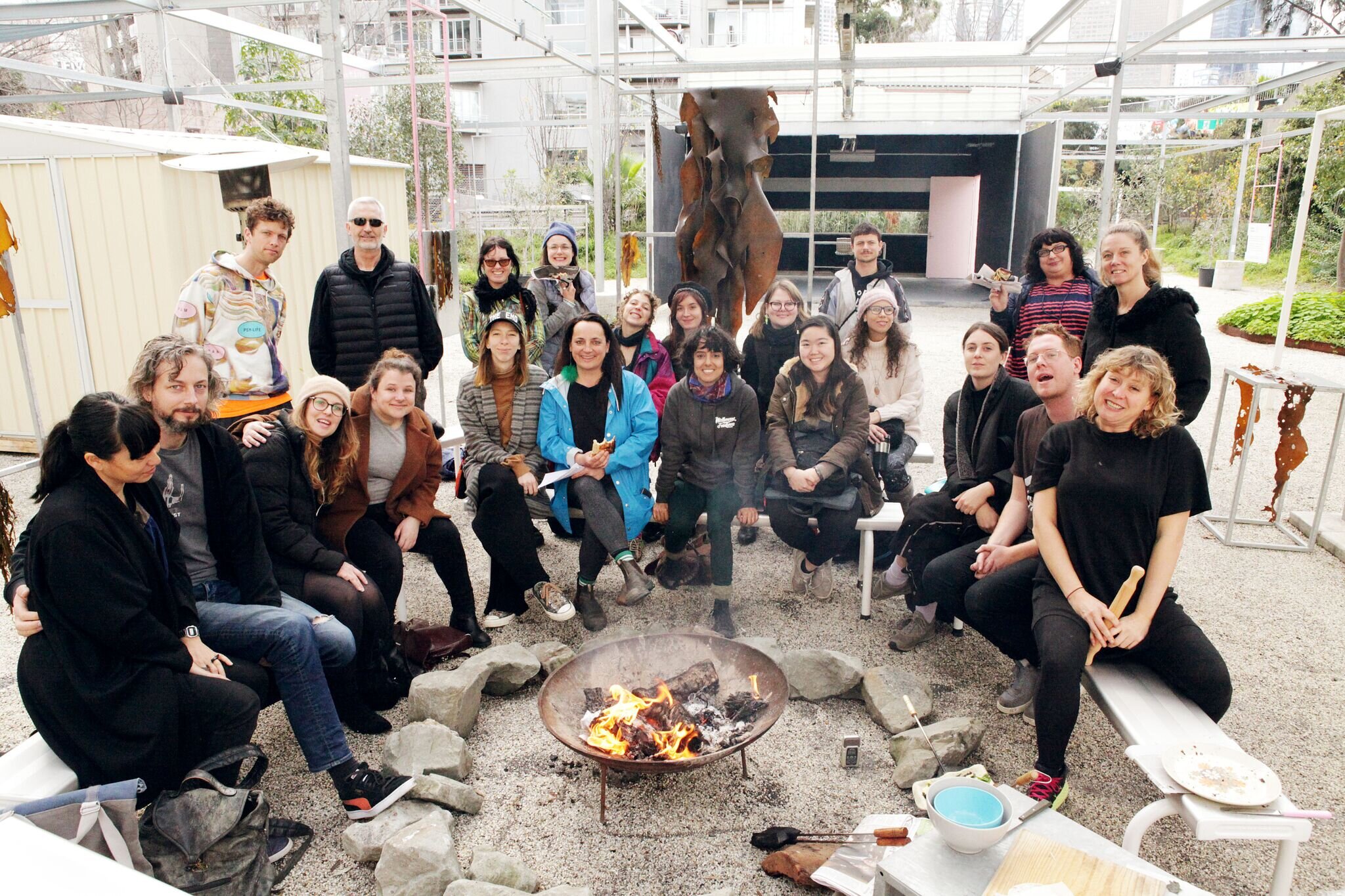 Danni Zuvela, Lichen Kelp and Mat Bate discussed 10 weird and wonderful things to do with seaweed.
Jaffle Symposium group photo by Marina Lamari.
Danni Zuvela preparing the thin gozleme style ocean bread dough for the toasties at the Jaffle Syposium presented by SASi at Testing Grounds. A regular bread recipe calls for the same ratio of salt:water as is found in the ocean; on average the salinity found in the sea is approximately 3.5%, Thus any bread recipe can use ocean water in the mix. Our ocean water was collected from Apollo Bay, Victoria, Australia.
Toasting toasties AKA Jaffles AKA toasted sandwiches - extra special ocean themed jaffles!
Seaweed appreciators in action!
image by Marina Lamari
In August 2019 Lichen Kelp presented the second edition of Drawing Matters, a Matters Journal talk series held at Cams Abbotsford Convent.
Below are some resources from the evening for those who'd like to learn more about seaweed and those who'd like to get involved with our aquatic kin.
Image: Japanese photographer Yoshiyuki Iwase dedicated most of his life to documenting the incredible ama uminchu, Japanese divers who were mostly women. The photo here shows the ada uminchu collecting seaweed (circa 1950's).
"Return to the ocean as often as possible."

— LICHEN KELP
image; Lichen and Sarita discussing the Chilean stop on the Kelp Highway for Drawing Matters, Abbotsford Convent.
photo by Sharni Hodge.
The Kelp Highway
This is an excerpt from An Ocean Garden: The Secret Life of Seaweed by Josie Iselin (2014).
Seaweed has been supporting humans since the very beginning. In 1975 the archaeological remains of a twelve-thousand-year-old human settlement at Monte Verde in southern Chile were discovered. Among the artefacts preserved in the peat bogs were the clear remains of nine species of marine algae from distant beaches and estuaries. These seaweed relics, confirmed to have been used as food and medicine by the ancient people, have stirred intense debate as to how the earliest Americans came to inhabit the continents.

It was accepted for years that the earliest humans arrived via the Bering Strait land bridge and then slowly populated the southern Americas as hunter-gatherers. The Monte Verde site, however, predates the glacier melt throughout Canada, when overland routes would have been impassable. It is now postulated that the kelp beds on the west coasts of North and South America created a nutrition highway along which the first humans travelled, either by boat or along the shore, eating the abundant shellfish and seaweed there.

READ MORE
Articles;
Is Seaweed the Next Superfood? THE NEW YORKER
Melbourne based Seaweed forages; Chris Rockley
Can seaweed save the world? TIM FLANNERY ON CATALYST
thanks to Mat Bate for putting together these resources and a fantastic evening of drawing kelp, eating seaweed and discussing marine algae!
SASi Seaweed forage, Point Cook Coastal Park. September 2019. The first in a series of Seaweed identifying field trips conducted by botanical illustatrator, scientific educator and ethnobotanist Chris Rockley. The session included a seaweed soup cooked with foraged wakame and a workshop in making seaweed fertilizer.
Image: Chris Rockley
In an upcoming session of SASi, we will be creating our own one off algae beauty products. The beauty industry can be a bit suss, but making our own seaweed remedies is going to be fun- delicious, slimy pampering with kelp facemasks, footbaths and we'll make dried seaweed bath bombs to use at home. We will watch some edu-taining vids wearing our face masks and snacking on nori popcorn, then do a light hearted beauty product review. Stay tuned.